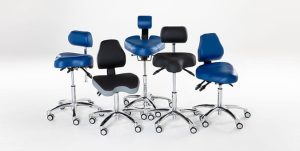 Please, take a SEAT!
As a medical professional, dentist, dental hygienist, dental assistant, chiropractor, veterinarian, pharmacist, lab technician, ophthalmologist, optometrist, audiologist, general practitioner, aesthetician, electrologist, and more…you work on the health of your patients almost all day long. Ergonomics is therefore very important.
Those who do most of the work sitting down deserve the best chair. Effectively addressing and preventing neck, back and shoulder complaints is done by supporting the body in the correct sitting position.
Our chairs and stools have been conceived and designed for and by medical specialists. With uniquely designed seats and backrests, they support the correct sitting position.
CONTACT me today to find out how you can RELIEVE your aches and pains. Dotti Ohlman, RDH 520-370-1139 or dottibqe@gmail.com